NnF CERAM®
INORGANIC NANOFIBROUS POWDERS
NnF MBRANE®
POLYMERIC NANOFIBROUS MEMBRANES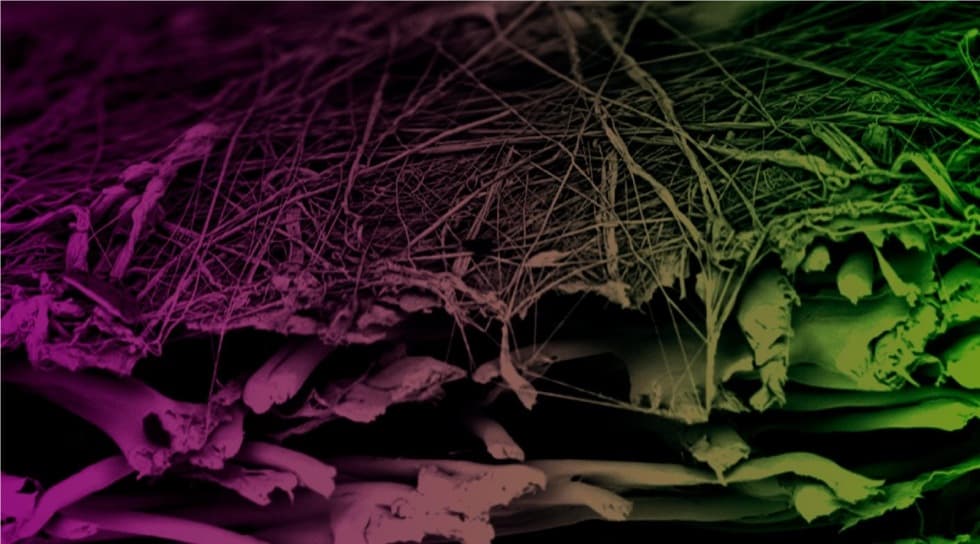 PARDAM NANOFIBERS s.r.o. (Ltd), member of NANO4FIBERS
is a company producing high quality nanofibrous materials
NnF CERAM® and NnF MBRANE® manufactured by Centrifugal Spinning industrial production technology located at the Production and R&D Center in Roudnice nad Labem, the Czech Republic.
WELCOME TO THE WORLD OF NANOFIBERS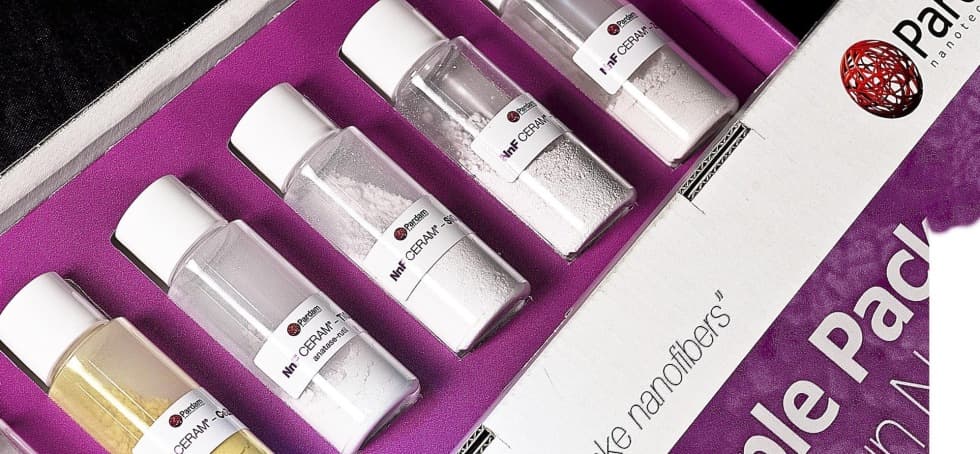 We DESIGN
Our own production machines specially modified for each product. We also continuously work on optimization and re-designing of our production machines as we want to deliver the best products to our customers.
We UP-SCALE
Our main goal is to manufacture nanofibrous materials. Hence we focus our R&D to materials which we believe will be possible to produce on an industrial level
(min. hundreds of m2 or kg).
We PRODUCE and SELL
Materials developed and produced by PARDAM NANO4FIBERS such as NnF CERAM®, NnF MBRANE®, RIFTELEN® N15 or BreaSAFE® which are distributed to end customers and distribution partners by our affiliated company NANO4FIBERS TRADE s.r.o.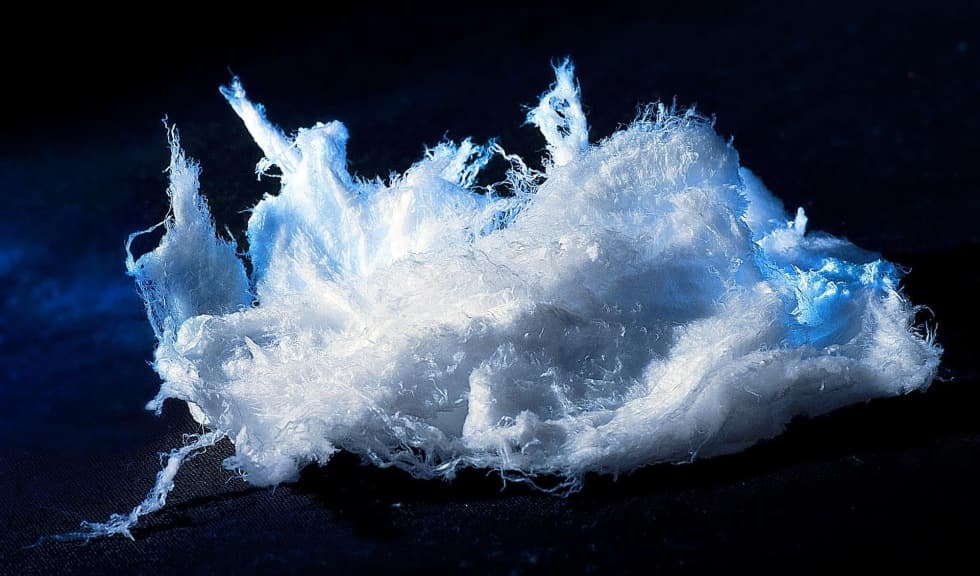 There are various spinning technologies used for development and production of nanofibers. All of them are currently based on SOLUTION SPINNING process. Spinning nanofibers from polymer solutions – (combining POLYMER-SOLVENT(s)-PRECURSOR(s)-ADDITIVE(s)).
We have selected Centrifugal Spinning Technology as the best for industrial production of nanofibrous materials. PARDAM NANO4FIBERS is the only producer in the world using Centrifugal forces to spin INORGANIC nanofibers and well respected producer of POLYMERIC nanofibers.
Advantages of Centrifugal Spinning Technology
17 times higher production capacity compared to DC Electrospinning

Greener solvents used for production of Inorganic nanofibers (Ethanol replaced by H2O for most materials)

Fewer production parameters to control during production

Faster development and optimization

Possible to produce 3D cotton-like structures as well as membranes

Membranes have more open structure compared to planar membranes made by DC Electrospinning
No limitation of substrate material for deposition of nanofibrous membranes (no high voltage field)

Possible to functionalize nanofibers by various additives and use them as a support for functional materials (nanoparticles, inorganic nanofibers, oils, essences, colors, cells etc.)

Fiber diameter and its distribution is bigger compared to DC Electrospinning (200-800 nm)

PARDAM NANO4FIBERS possesses several Patents and Utility Models on technologies, nanofibers and products based on nanofibers and is continuously creating new and unique Know-How!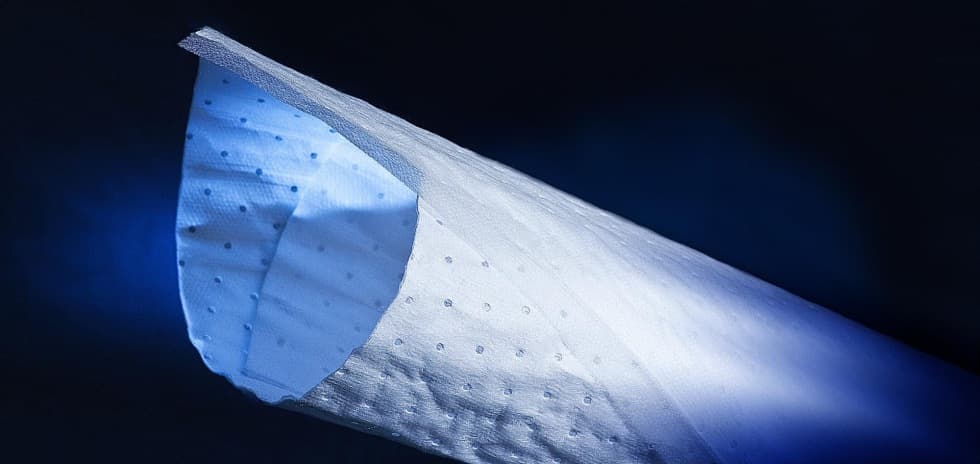 Our team has a great experience with several spinning techniques (AC Electrospinning, DC Electrospinning, Centrifugal Spinning), which can be used for development of specific materials and products.

We can prepare nanofibers by 3 different technologies in various structures – compare their properties and functions and propose the best technology for production of your material or product. This enables us to select the best technology in terms of production efficiency, costs, yield and quality.
Development of new
nanofibrous materials
We can develop new nanofibrous materials on behalf of your specification or modify our current products to reach desired properties.
Contractual
Production
Have you developed your own nanofibrous material for a unique application? You don't have production capacity and need to produce large quantities? We can produce nanofibers for you! Even though you have developed nanofibers by DC Electrospinning, we can transfer them to Centrifugal spinning technology.
Material analyses
Do you need SEM, BET or XRD analyses of your materials? We can do it professionally and fast!
Development of new products based on nanofibers
We closely cooperate with our partners and customers. Together we optimize properties of nanofibers for specific products. We also develop different lamination and post-processing techniques to get the best out of your product. As a reference, we can name SACOPA Nanofiber Filter, food filtration membrane RIFTELEN® N15, BreaSAFE® respirators.
Project partnership
We can be your project partner or subcontractor within your projects. We ourselves have participated in several local and EU funded projects (e.g.MATFLEXEND)