BreaSAFE® FILTER
CLASSIC 10 × 15 cm
MAX 15 × 20 cm

BreaSAFE® FILTER
CLASSIC 10 × 15 cm / MAX 15 × 20 cm
BreaSAFE® FILTER will transform basic cotton face masks into an effective weapon against viruses and bacteria
Unique Czech nanofibrous membrane with content of active silver effectively eliminates microorganisms, and therefore significantly increases protective factor of commonly available pocket face masks (purchased or home-made).
Super-thin fibers and small pores ensure high efficiency at capturing particles, bacteria, viruses and allergens.
Testing performed by renowned institutions such as Nelson Laboratories USA (as one of a few laboratories worldwide measuring viral filtrating efficiency VFE) or the Faculty of Science of Jan Evangelista Purkyně University (testing of antibacterial effects) proved that having added active silver we have achieved significant and long-lasting antimicrobial properties highly effective in the fight against microorganisms (e.g. SARS-CoV-2).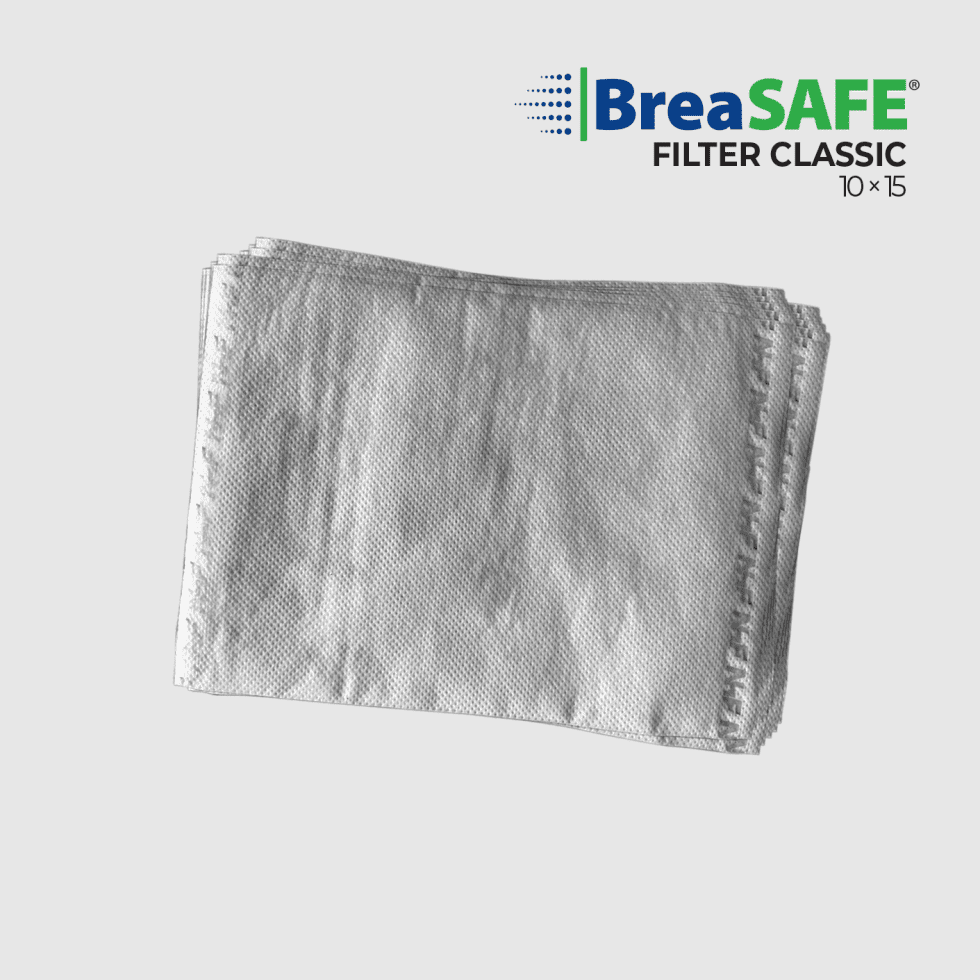 MORE ABOUT BreaSAFE®
FILTER ​​​​
BreaSAFE® FILTER is made from nanofibrous membrane whose ultralight construction enables easy use. Carefully chosen components enable the filter to be disinfected which extends its lifespan and it can be safely used for several days.
UNIQUE PROPERTIES:
SAFE FOR THE USER: Nanofibrous membrane protects the user from COVID-19
ANTIMICROBIAL: Thanks to use of active silver effectively eliminates microorganisms
REUSABLE: Can be used for several days if properly cared for
EASY TO MAINTAIN: Can be disinfected or sterilized in both professional and home environment
ODOR-ELIMINATING: Active silver eliminates foul odors and ensures protection even if the filter is wet
I WANT TO INQUIRE LARGER QUANTITY OF
BreaSAFE® CLASSIC 10 × 15 cm
BreaSAFE® MAX 15 × 20 cm
If you request larger quantity of our products for regular purchase or wholesale distribution, please fill out and submit the B2B form below and we will contact you.
Due to a limited production capacity and enormous demand for our products, we would like you to provide additional information in order to be able to prioritize your wishes and requests.